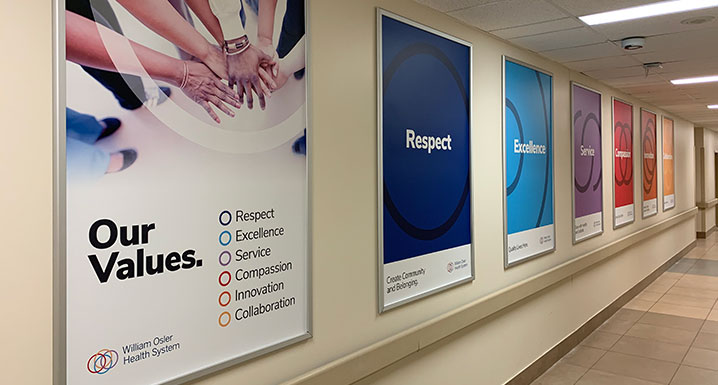 If there's one thing recent events have taught us, it's that we're navigating a world evolving at breakneck speed. Evidence of this is everywhere, from the technology we use to the renewed focus we're placing on our health in light of COVID-19. As time marches on, the things we value most shift, change, strengthen, or express themselves in new ways.
We are facing both unprecedented challenges and incredible opportunities and, as individuals and organizations, it can be easy to get sidetracked, either by a current crisis or the next promising 'big thing'. With so much swirling around us, what we need most is an anchor that guides our efforts.
At William Osler Health System (Osler), that anchor is our organizational Values: six touchstones that are helping us navigate through this current pandemic and further evolve our work culture. We recently refreshed and relaunched our Values, which were developed with input from Osler leaders, staff, physicians, volunteers, patients, families, and community members. This new iteration blends the best of the former (Respect, Excellence and Innovation) and the new (Service, Compassion and Collaboration); reflecting those Values that continue to resonate, and those that better reflect our current and future focus.
The newest Values feel exceedingly right during these challenging times, when we are called upon more than ever to serve our patients and one another with humility, empathy and compassion. Each Value is clearly defined and features a set of behaviours designed to guide organizational consistency in our approaches to our daily work.
On the surface, the timing may seem curious: a health care organization refreshing its values during a global pandemic? But having laid the groundwork for this launch last year, in many ways, the timing couldn't be better. Here's why: while our response to COVID-19 has been commendable, the personal sacrifice and exhaustion for all has been immense. In today's challenging environment, refreshing our Values has given us pause to reflect on our shared purpose and recommit to our patients and to one another. In doing so, we are nurturing a culture that inspires us all to be and do our best, while facing the challenges of the day. COVID-19 has tested us, but it's also brought our organization together in remarkable new ways. I can't think of a better time – or way – to build on that momentum.
Leading this work starts from the top. Our Senior Leadership Team is committed to modelling our Values every day, and we are working with both formal and informal leaders to ensure they have the necessary supports to do the same. We will also continue to seek the invaluable candor and insight of our Values Advisory Panel, a cross-functional group that has helped guide our Values refresh from the beginning.
We'll embed our Values even further in the way we work, integrating them into key human resource and organizational development policies and processes, including our approaches to onboarding, recruitment, recognition, engagement and workplace culture, and ensuring they are prevalent at all decision-making tables. We'll continue to listen, learn and discover fresh ways to bring our Values to life to ensure they positively impact both the work and patient experience.
Most importantly, our Values are not a "nice to have" in these fast-paced times. They're essential. Striving toward our Vision of patient-inspired health care without boundaries requires excellent people, so we are compelled to foster a culture that inspires ours to learn, innovate and grow. Simply put, our Values are the guideposts that define that culture. They are highly visible at all our sites serving as a gentle reminder that it's not enough to say our Values if we don't also demonstrate them.
In the time ahead we'll continue to ensure Osler's committed and dedicated teams are well-positioned to build upon our successes thus far. The world is full of unknowns, but we know where we're going. Guided by our Vision, Mission, Values and Strategic Plan, we have the roadmap.