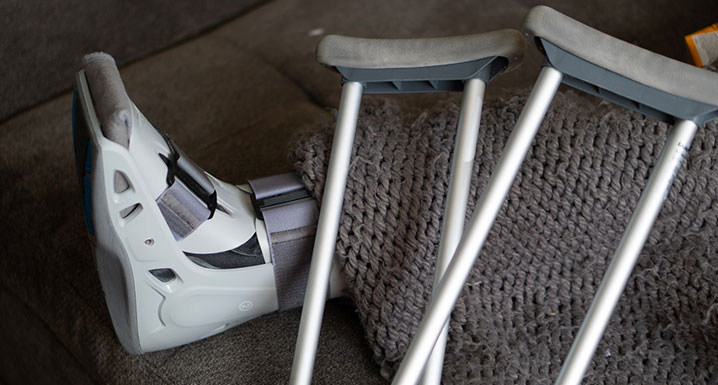 Recovering from an injury or illness doesn't have to be put on hold because of the pandemic. There are many ways you can continue your recovery process at home! If you are returning home after an injury or illness, check out these useful tips from Osler's Occupational Therapists (OT) to help assist with your recovery and overall wellbeing during these difficult times.
Be prepared for virtual care or online appointments
Since the start of the pandemic, several health care services have shifted to providing virtual care, including OTs. When preparing for a virtual session, ask your OT what materials you should have ready and the amount of space that's needed to complete the session. Make sure you are comfortable and positioned properly to avoid further injuries or aggravation to any current ones.
Quick tips:
Position the top of your computer/device at or just below eye-level
Make sure your lower back is supported in your chair and feet are flat on the floor
Ensure your head, neck and shoulders are relaxed and supported
Get creative with at-home exercises
You don't need gym equipment to participate in an exercise and rehabilitation program. Everyday items can be used in your home exercise programs. Soup cans or water bottles can be used as small hand weights; a rolled up towel can be used to support joints, and for positioning, clothes pegs and coins can be used for fine motor activities. Participation in daily activities like housecleaning can also be a great way to improve movement and strength. Your OT can guide you with these activities to aid in your recovery and prevent any further injury.
Establish a routine to stay on track
Many of our usual routines have been disrupted by the pandemic. It's important to try to maintain your routines as much as possible to help keep your recovery on track. Use a calendar or a wall chart and write down what activities you do and when you do them, to help you plan your day. Your OT can also help you do this.
Engage in leisure activities
Leisure activities have great therapeutic value and can help you find balance in your life. Some leisure activities you can engage in at home:
Card games - great for you both physically (for fine motor skills), and cognitively (for memory, critical thinking and strategy).
Board games with your family and friends - good for your mental health, as well as improving attention skills.
Jigsaw puzzles - help you work on visual perception and visual problem solving.
Crosswords and word search puzzles - help you work on language skills.
Online games - help keep your cognitive skills sharp with some added fun.
Your OT can also make suggestions best suited for you and your recovery needs.
Practice self-care
The COVID-19 pandemic has created disruption in our lives that can cause feelings of stress and anxiety. Managing your stress and taking care of yourself is vital to your overall health and recovery. Keep yourself busy with activities you enjoy. Stay connected with friends and family while practicing physical distancing or connecting virtually. Take care of your body by eating and sleeping well, make time for daily exercise as tolerated and other relaxation and/or meditation activities. Reach out to your OT or any member of your health care team for help as needed.