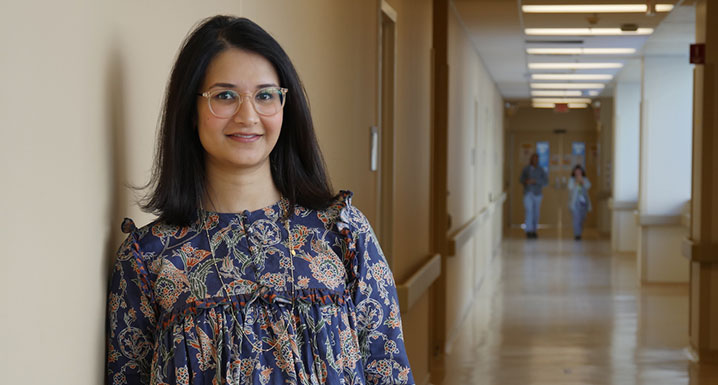 Manuel Paul is an avid golfer. So when he started experiencing pain in his low back he attributed it to the sport he loved. It wasn't until months later, when the pain became debilitating and he was hospitalized, that he learned he had developed Multiple Myeloma - a type of blood cancer. The severe pain Manuel was experiencing in his back was caused by a hip bone that cracked as the disease progressed.
After undergoing initial rounds of chemotherapy and a stem cell transplant at downtown hospitals, Manuel was able to receive care much closer to home at Osler's Brampton Civic Hospital. Earlier this year, Manuel became one of the first patients to participate in Osler's Oral Anticancer Therapy (OAT) Program. The leading-edge program is designed to support patients who are taking cancer treatment orally. Unlike infusion cancer treatments such as chemotherapy and immunotherapy, patients undergoing oral therapy can take their medication in the comfort of their own home and as a result, are required to visit the Oncology Clinic less frequently.
"A growing number of patients are using oral anticancer medication and with this shift in treatment, more and more of them are responsible for taking their own medication outside of the hospital," said Alina Rashid, Oncology Clinic Pharmacist and OAT Program Lead. "With this comes an increased need to educate patients so they can effectively manage their medication regimen."
Today, approximately 30% of cancer treatment in North America is administered orally. Through Osler's OAT Program, local patients like Manuel receive comprehensive education about their medication and its side effects, and regularly scheduled follow-up phone calls with a pharmacist. These phone calls allow patients an opportunity to share any challenges they are having with adhering to the regimen, and discuss the side effects they may be experiencing, as well as any other medications they may be taking.
"Alina did a great job of explaining everything I need to know about taking my medication. She clearly described the possible symptoms and side effects and showed myself and my wife how I should take the pills," said Manuel.
A comprehensive OAT Program such as the one at Osler, is unique among community hospitals and is one of the many ways that Osler is enhancing its Oncology Program to meet the needs of the community it serves. At Osler, oral anticancer medication is used to treat a range of cancers including, lung, breast and gastrointestinal cancer to name a few.
Patients have had an overwhelmingly positive response to the new program, which also aims to reduce the number of visits patients with cancer make to the Emergency Department.
"The care I received has been wonderful," said Manuel, who also was previously an inpatient in Brampton Civic's Oncology Unit. "All of the doctors and staff approach their job with honour and I know they do their best, and always with a smile," he adds.
Manuel is happy about the progress he has made so far along his cancer journey. His hair is beginning to grow again and he has regained some of the weight he lost while under chemotherapy. With a healthy dose of optimism, Manuel is also looking forward to golfing once again.