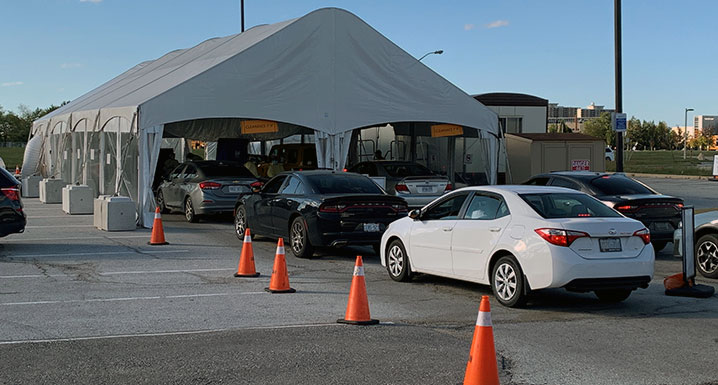 Posted on Monday, October 05, 2020 12:00 AM
William Osler Health System (Osler), which operates the COVID-19 Testing Centre located at South Fletcher's Sportsplex in Brampton, is temporarily closing the Testing Centre for one day on Wednesday, October 7, to conduct essential maintenance and winterize the facility in preparation for colder weather.
The closure is separate from Osler's transition to an automated appointment-booking process at the Centre, which began on Sunday, October 4, after the Ontario Government directed all Testing Centres...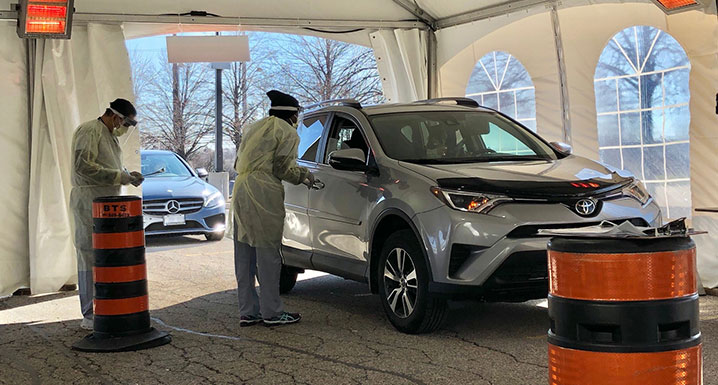 Posted on Sunday, October 04, 2020 12:00 AM
New appointment system aligns with Ontario Government's direction for all testing centres
On Friday, October 2, the Ontario Government announced plans to update its approach to COVID-19 testing across the province by transitioning all COVID-19 Testing Centres to pre-scheduled appointments. In alignment with this direction, effective today, Sunday, October 4, William Osler Health System (Osler) is implementing an appointment-based system and is discontinuing unscheduled testing.
Osler has begun in-person...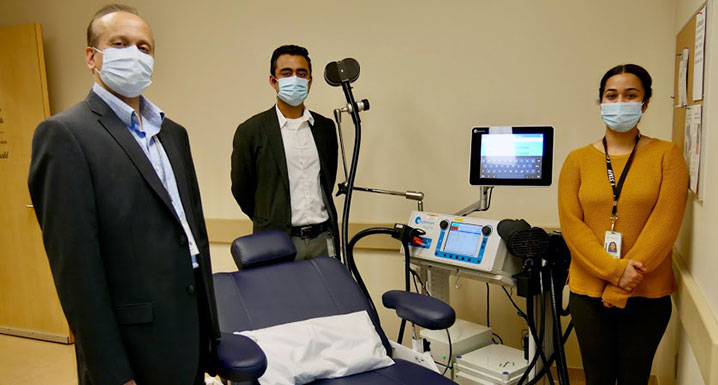 Posted on Friday, October 02, 2020 12:00 AM
State-of-the-art treatment for moderate to advanced depression and mood disorders is now closer to home for patients in the communities Osler serves. On October 5, the start of Mental Illness Awareness Week, Osler officially opened its Repetitive Transcranial Magnetic Stimulation (rTMS) Clinic.
rTMS is a safe, non-invasive treatment that uses a magnetic field to stimulate nerve cells in the brain that are involved in controlling emotions. With repeated treatments, the magnetic pulses impact how the...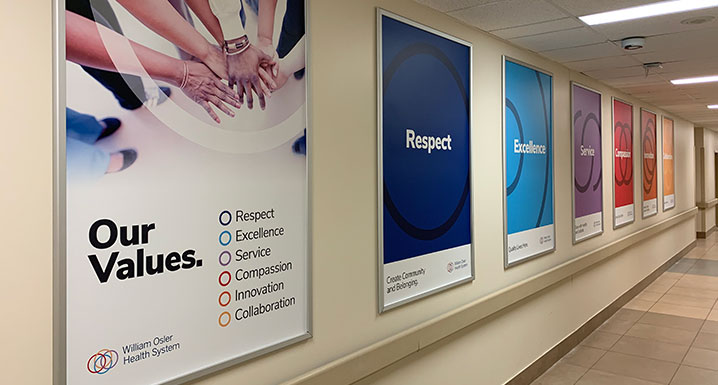 Posted on Thursday, October 01, 2020 12:00 AM
If there's one thing recent events have taught us, it's that we're navigating a world evolving at breakneck speed. Evidence of this is everywhere, from the technology we use to the renewed focus we're placing on our health in light of COVID-19. As time marches on, the things we value most shift, change, strengthen, or express themselves in new ways.
We are facing both unprecedented challenges and incredible opportunities and, as individuals and organizations, it can be easy to get sidetracked, either...
Posted on Wednesday, September 30, 2020 12:00 AM
With new procedures and precautions in place to protect against COVID-19, things looked a little different at the 24th annual Osler Open: Etobicoke Invitational. What didn't change was the enthusiastic support of this highly-anticipated event, which raises funds for William Osler Health System's (Osler) Etobicoke General Hospital.
The 2020 tournament, hosted at The Country Club in Woodbridge, saw a total of 144 golfers tee off in a staggered start in support of Osler Foundation. Golfers were treated...