Posted on Wednesday, July 13, 2022 02:47 PM
Like many hospitals across the province, William Osler Health System (Osler) continues to face significant pressures due to ongoing staffing shortages and high demand for care. It is a challenging time for all of us in health care as we face this 7th wave, as well as for many of you in our community who require care. Every day, Osler's dedicated teams work diligently to carefully balance the need for our services with staffing challenges that have been exacerbated by the pandemic.
Please know we...
Posted on Wednesday, June 29, 2022 03:25 PM
Michelle (pictured on the right) and Thaliyah are registered nurses (RNs) in the Women's and Children's program at Osler.
Michelle is a Labour and Delivery (L&D) nurse at Brampton Civic Hospital. One of the more experienced nurses on the unit, she has been working at Osler for 23 years. Each year, Michelle and her team support the delivery of about 5,000 babies into our growing community.
Thaliyah works on the Paediatrics unit at Etobicoke General Hospital and joined the organization in March...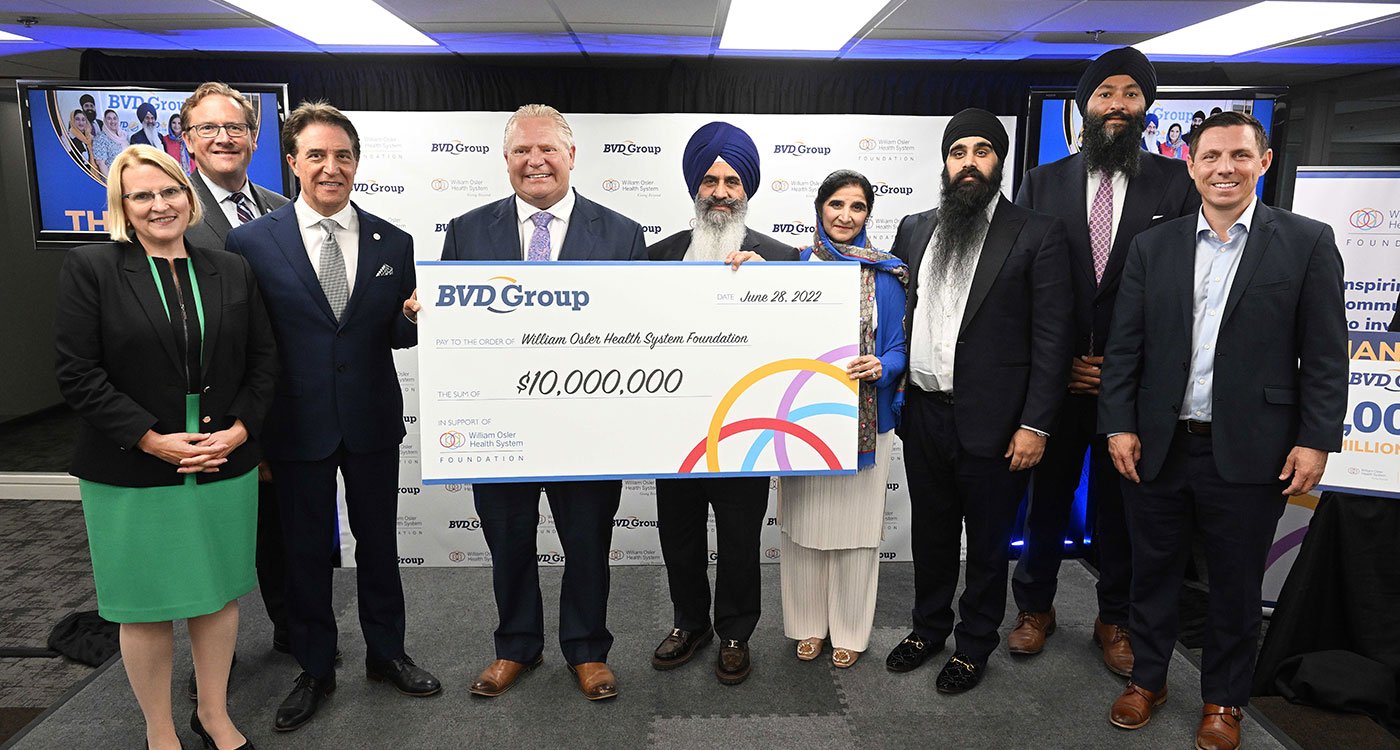 Posted on Tuesday, June 28, 2022 03:19 PM
William Osler Health System (Osler) and William Osler Health System Foundation (Osler Foundation) are thrilled to announce a $10 million donation from BVD Group. As Osler continues to grow to meet the increasing demands in one of the most diverse communities in Canada, funds will go towards the local hospital system's greatest equipment and redevelopment needs, and help strengthen health care in Brampton and Etobicoke for years to come.
BVD Group, which serves the North American transportation industry,...
Posted on Friday, June 24, 2022 09:02 AM
When cancer treatment ends, it is completely normal to feel a bit lost when returning back to regular life and routines. Osler's survivorship clinic supports cancer survivors as they continue to heal and build their lives after cancer. With the end of treatment also comes a separate worry: Will my cancer come back and how do I calm this scary thought?
We spoke with Harprit, Social Worker, and Diana, Registered Nurse in the survivorship clinic about how to cope with the fear of recurrence.
First thing's...
Posted on Thursday, June 23, 2022 10:29 AM
Annual Report 2021-22
At William Osler Health System (Osler), we live our Values every day to Go Beyond for our communities. In a year that tried and tested us all, our Values were a guiding light, steering and inspiring us to deliver on our Vision of patient-inspired health care without boundaries for our patients and families.
Osler extends a heartfelt thank you to our staff, physicians, volunteers, Osler Foundation, donors, government and health care partners, and the entire community...