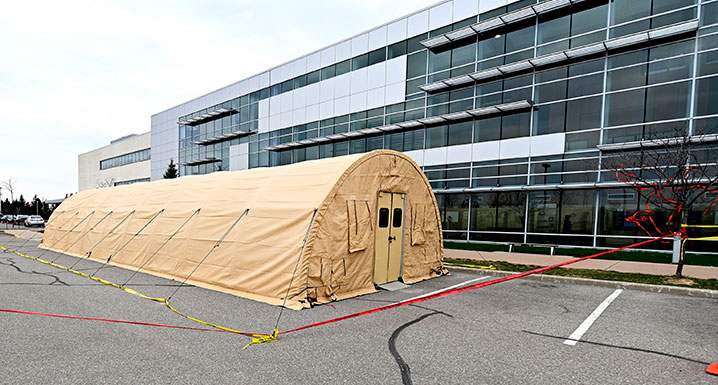 Posted on Thursday, July 30, 2020 12:00 AM
Tents have remained unused throughout the COVID-19 pandemic
Beginning today, temporary triage tents that were erected outside of Brampton Civic Hospital and Etobicoke General Hospital during the height of the pandemic, will be taken down.
The addition of the tents to the hospital sites was a short-term solution for the spring/summer to ensure the hospitals were well-prepared to care for an increasing number of patients, and provided added capacity for Osler's Emergency Departments (ED) through the...
Posted on Wednesday, July 29, 2020 12:00 AM
It's been four months since the World Health Organization (WHO) declared COVID-19 a pandemic. Four months since the world, and life as we knew it, was turned on its head.
The global spread of coronavirus has changed everything – the way we work, care for each other, socialize, even the way we speak. Phrases like 'flatten the curve', 'physical distancing', 'contact tracing', and 'social bubble', once used only among Infectious Disease specialists like us, are now part of everyday language.
'Information...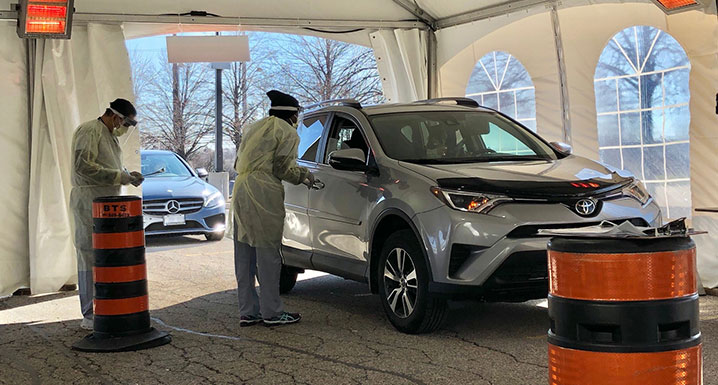 Posted on Monday, July 27, 2020 12:00 AM
Hospital has performed more COVID-19 tests than any other hospital in Ontario
William Osler Health System (Osler) is recognizing a significant milestone this week, marking the completion of 100,000 COVID-19 tests across its sites on Sunday, July 26.
Osler was one of the first hospitals in the province to open a COVID-19 Assessment Centre at the beginning of the pandemic, and it has since completed more tests than any other hospital in Ontario. The 100,000 figure represents tests completed at Osler's...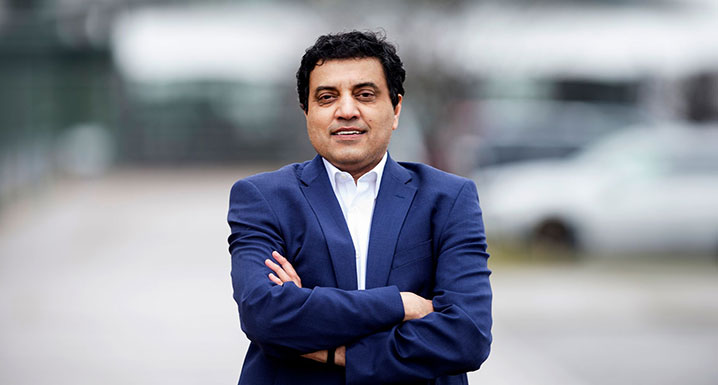 Posted on Thursday, July 23, 2020 12:00 AM
I recently completed my first 90 days as President and CEO of William Osler Health System. Transitioning into a new role always has its challenges, and doing so during a pandemic has certainly been a journey unlike any other I've experienced.
While the past three months have left little time to reflect, this milestone is an opportunity to consider all that has happened, what I've learned so far, and what lies ahead.
Here are five observations from my first 90 days:
1. The view is different from here.
While...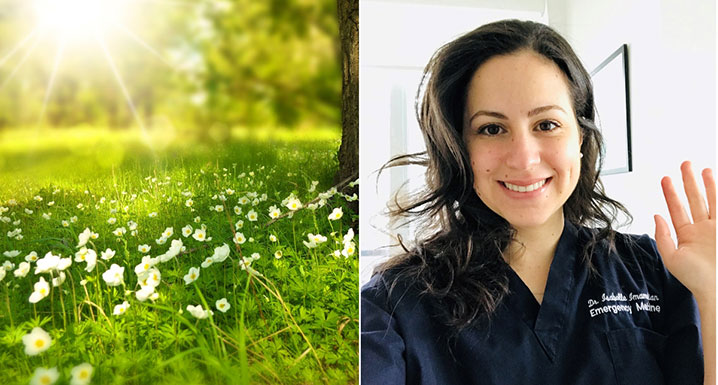 Posted on Monday, July 20, 2020 12:00 AM
From swimming to cycling, there's a plethora of fun outdoor activities to do during the summer. But with any outdoor activity, injuries can occur so it's important to know how to prevent them so you can get the most out of your summer. We spoke with Osler Emergency Medicine Physician, Dr. Isabelle Imamedjian, about the most common injuries and illnesses seen in the Emergency Department (ED) this time of year and how you can minimize the risk for yourself and your loved ones.
1. Heat illnesses
It's...